In India, Raksha Bandhan is a beautiful festival that defines the bond between a brother and a sister. As Raksha Bandhan 2023 is just around the corner – People have started shopping for a traditional outfit, accessories, and gifts – all of this concerning the values of our tradition alive in such a way that one can look stylish as well. So, We have listed Raksha Bandhan outfit ideas, styling tips, outfit choices, and a variety of options for men that you can explore to make a fashionable choice. But a maximum of them are unaware of the variety available to them.
A men's traditional kurta set for a festival and a suit for parties is the only two outfit they think they can wear. But For this Rakshabandhan 2023, we have shortlisted some of the most trending traditional Raksha Bandhan outfit ideas for men out there.
1. Jodhpuri Jacket
A nice kurta jacket for men can make a simple white kurta look vogue. Kurta pajamas or pyjamas are all-time in trend but if you want to make a statement through your outfit then adding a layer of Jodhpuri Jacket to your outfit will do wonders. One should always keep in mind that if your outfit is in light colour then just go for a dark colour jacket and vice versa. this will enhance the overall look of your outfit.
2. Kurta with a Scarf
If you are into experimenting then you should go for Kurta Pajama with Scarf. Style your printed kurta with pants or churidaar and add a scarf or dupatta around your neck. This outfit will make a statement for this Raksha Bandhan.
3. Asymmetric Kurta for Men
In the past couple of years, kurtas with asymmetrical patterns have been on trend. A Remarkable and stylish look created with asymmetric pattern kurtas. Pair your kurta with straight pants and to add a chunk to your outfit go for a Nehru jacket to complete your outfit.
4. Lucknowi Kurta For Men
Ethnic lovers these are for you. Lucknowi kurta for men will never go out of fashion. If you are busy and cannot go shopping Lucknowi kurta is the best option. To round off your style, try pairing it with a pair of beige pants.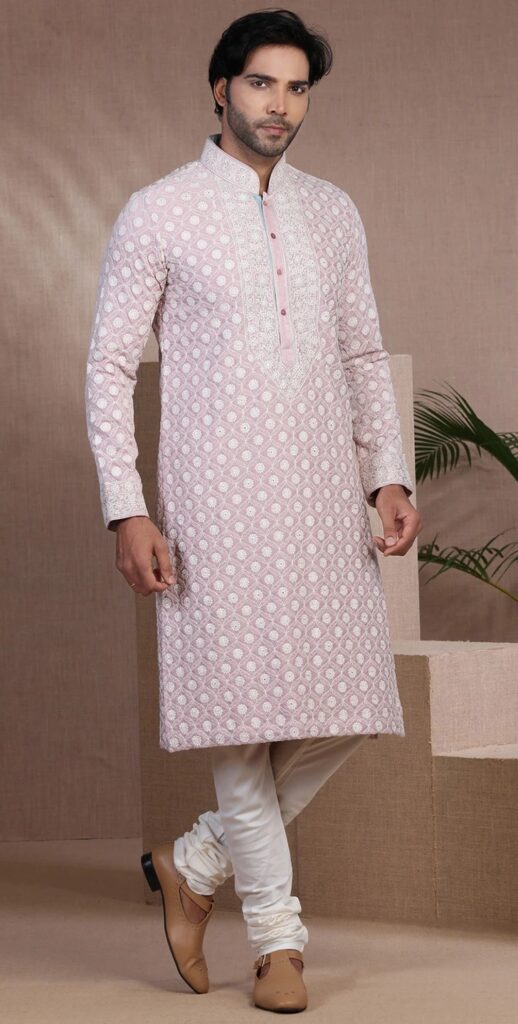 5. Floral Kurta
Floral patterns are a must-have in every men's wardrobe. Earlier there was a myth only women can have floral prints but just take a look at the last few years' collections of named designers. Floral kurta sets are very much in trend. Pair your floral kurta and churidar with a plain Nehru jacket and you're good to go.
6. Men Ethnic Jackets
A Nehru jacket can always make men stand out of line. If you want your family to focus on you then your sister just goes for a Nehru jacket for men. To reduce your burden we have shortlisted this outfit – a draped kurta and a churidar with stunning men's ethnic jackets. This outfit will never let you down.
Conclusion
So, these are the trending traditional outfit ideas for men out there who are ready to make a statement. I agree there are not as many options for boys compared to girls, but the key is to be open to experimenting. Furthermore, go for contrasting colours for contrasting effects, keep it minimal with just a watch and avoid layering up with garments on your body to rock your Rakshabandhan 2023.
Read Next Blogs: theContenting
Read Next Blog:
5 Raksha Bandhan Outfit Ideas for Girls