Earring is a favourite accessory for every woman, some of them do not feel dressed up when they haven't put on a lovely pair of earrings. Whether you're looking for minimalist stud earrings or elaborate chandelier earrings, adorned with clear, colourful, or black gemstones there are a variety of styles and designs to choose from the below list of different types of earrings.
16 Types of Earrings with Names and Pictures
1. Studs
Studs are like floating diamonds on the center of your earlobes, they are a must-have for every woman. Women generally wear them these days as they are elegant and light in weight. Easy to wear and easy to sleep with.
2. Hoops
Hoops are circular earrings. At times one or more circles are entangled to form a beautiful geometric design. They go well with solid colours and body-hugging dresses.
3. Chandelier
Save them for your wedding, these are ornate, embellished with diamonds and colored stones. These earrings are long, fancy, very Indian, and very elaborate. They are the best fit with a heavy pearl or gold or silver necklace.
4. Chandbali Earrings
The most favourite and every boy should gift this to their girlfriends or female friends. Chandbalis is a heavy type of earring regardless of what they have to say, always pair them up with nice heavy Kurti and salwar kameez.
5. Huggies Earrings
These pretty earrings are either plain or studded colourfully. Their names are derived from their shape and making. They hug your earlobe from front to behind. They can go with any kind of dress based on the design you've chosen.
6. Kashmiri Dejhoor
These pretty earrings are danglers that rest on the earlobes, these danglers are attached to an ornate chain that ends with a drop. These earrings go best with Anarkalis and Umraos. A loaded piece of jewellery that reeks of culture and grace.
7. Pretty Passa Style
 We all are familiar with the Jhummars women wear on the sides of their heads during weddings. The design of these rings was inspired by them. They are beautiful and give just the perfect look when paired with a heavy necklace.
8. Feather Earrings
If you want to experiment a little, go ahead with these earrings to give you a sense of adventure and hope. They come in all colours make sure you go with lighter, brighter shades of them. Pair it with Western tops. They do not go well at all with Indian wear.
9. Marble Earrings
My personal favourites are very aesthetically appealing. A dangling shiny marble is just a fashion accessory that might come in handy at any time.
10. Geometric Earrings
It is minimalistic and appealing for people with a heightened design sense, these are the kinds of earrings one should have. Solid shapes of metal with sharp angles go well with any kind of dress.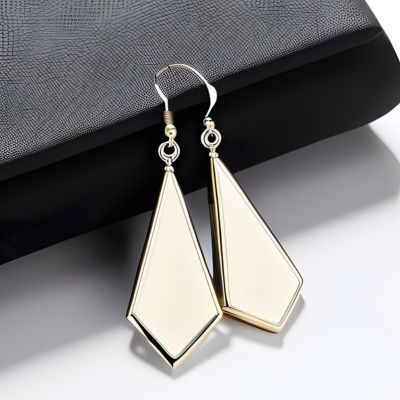 11. Tassels
Tassels are for the bohemian chick look. They come in bright colours, having beads and threads dangling boldly. Pair them with loose tank tops or palazzos when you are at the beach or anywhere you wish to unwind and chill.
12. Jhumkas Earrings
Every Indian girl's favorite is the inverted dome-shaped earrings. They are really cute, they end in little colorful danglers all around them. They come in mostly oxidized steel and golden colours. The only kind of earrings I like to pair with my Kurtis.
13. Teardrops
More like tears of happiness, the name is derived from the shape as you can see they look like a metallic teardrop. They are mostly studded with an almond-shaped stone or gem.
14. Threader
Threaders are long and thin earrings like threads, they are more or less experimental. It is good to have a pair of them, a good pair to wear at a nightclub.
15. Cluster
These diamond or stone studded earrings are from a beautiful formation like that of a flower, always in a cluster of three, four, five, and so on. They come in a lot of attractive designs and are suitable for functions and ceremonies.
16. Barbells
Another day-to-day wear, the name comes from its shape. They look nice only on a few people.
Conclusion
Earrings are as important as your outfit and to make your life easier here is a list of all the different types of earrings designs, every woman should own. Make sure you get your hands on all the above-mentioned earrings design.
Read Next Blog:
Raksha Bandhan Outfit Ideas 2022