Each bride wants to look gorgeous on her Wedding Day and why not, each bride deserves to look picture perfect on her wedding day! To look good, everything plays an important role so it is good to give emphasis on detailing everything you are going to wear from the attire to your makeup. In this article, we are going to help you to understand the best lipstick shades so you don't need to be dependent on your makeup artist or a random shopping guide for a bride. This article will work as your ultimate lipstick shopping guide.
Let me share the top 10 lipstick shades to help you get that gorgeous look!
1. Fuschia Pink
If you have chosen to be a scarlet bride, then the choice of best lipstick shades can be red and pink. If you choose red, it will overlap your lehenga colour with your lipstick colour and many fashion divas don't like that. If you are an Indian bride that wants to get the equal spotlight on your attire and lips, then the Fuschia shade of pink is the best for you.
2. Classic Red
Red definitely makes a style statement and each shopping guide for Indian brides talks about using the classic red. If you want to carry the stunning style statement, classic red is the one you must wear.
3. Ruby Red
If you find the best lipstick shades in any colour with a lot of variation, then it is red. If your wedding attire is of the colour yellow, orange or pink, then the ruby red colour is on the top list of our lipstick shopping guide for Indian brides.
4. Luscious Tangerines
If you have chosen to have a destination wedding, then you need long-lasting and super moisturizing lipstick to keep your stunning look intact. Well, the Luscious Tangerines is perfect with its juicy orange colour will give a bold look to you.
5. Matte Deep Red
Deep red lipstick with a matte deep red shade would look amazing for brides that prefer a traditional look. This shade is made with a combination of yellow and red, just like haldi and kumkum. It goes perfectly with the golden colour wedding attire.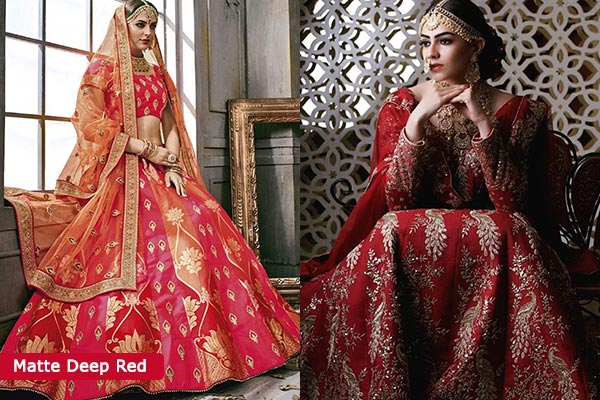 6. Coral Peach
It is one of the best Indian bridal lipstick shades as it goes with all types of outfits and looks perfect with all skin types and colours. If you are really confused about the best lipstick shades this is the one you can pick blindly.
7. Mauve
If you want to have the spotlight on your lips and face with ravishing colours, then Mauve is the shade you must wear. It goes perfect with orange, pink or a combination of both colours as your wedding outfit.
8. Bold Brown
If you have chosen a dark wedding outfit of red or pink colour, then giving an edgy look with the bold brown shade would be the best choice. Compliment your makeup by wearing smoky eye makeup.
9. Hot Pink
If you like to pout with gorgeous lips in the spotlight, hot pink is the best lipstick shade for an Indian bride. This shade goes with any colour attire.
10. Berry Red
Another versatile best lipstick shade is berry red and it looks stunning with any colour so you can choose it with any coloured attire and still look so gorgeous!
Conclusion
Each bride wants to look gorgeous on her Big Day and why not every bride deserve to look beautiful so the above points are perfect for all the brides out there.
Read Next Blog: