Candles are a great method to give a unique touch to our home decor. The unique quality of statement candles is their capacity to illuminate a space even when not lit. Candles have been utilized in a variety of ways over the years. The most common method is to bring some romance or mood to any environment.
Previously, candles were used to decorate birthday cakes, to enhance the ambience on a romantic evening, and simply to make our homes smell nice. However, statement candles have recently taken on a completely new significance. They're no longer merely for function; they're also a work of art in their own right.
What is a Statement Candle?
A statement candle is one that adds color and elegance to a room and elevates it without requiring much effort. During the pandemic, this product category grew in popularity. Statement candles are popular today despite their high price tag of $50-$100, owing to their reputation as status symbols on Instagram and TikTok. According to British Vogue, candle-making was the "greatest lockdown trend." As statement candles come in unusual and striking forms and sizes, they create a look and style that is sure to draw attention.
Statement candles, which gracefully straddle the limits between utility and decor, are the ideal solution to your interior troubles. They are also a part of the Statement Home Decor meta trend. They not only make for easy splashes of color, but when positioned correctly, they allow one to feel the joy of house renovations without actually having to do much — especially given they're often less than 1kg, inexpensive, and transportable, so no real brain (or muscle) power is necessary.
Why Are Statement Candles So Popular?
The COVID quarantine of 2020, like so many other things in life, can be credited (or blamed) for the statement candle trend. A lot of us realized that our homes needed some zhuzhing in between baking sourdough and testing our minds with 5,000-piece jigsaw puzzles. And often all it takes is a few new throw cushions, a new piece of wall art, or an eye-catching decorative item, such as a statement candle, to completely transform a room. While some statement candles are quite expensive, there are several types that are very reasonable.
According to a Furniture Today survey, Millennials and Gen X shoppers value home design more than baby boomers. This is why they're investing more in statement home decor products like statement candles. This makes them perfect for anyone who wants to add a fun, new item to their living room or dining room without having to break the bank.
List of Statement Candles That Are Too Beautiful to Burn
Art seems like the obvious option, but if you're not ready to invest in a pricy piece of art, these statement candles are a more budget-friendly and non-committal alternative.
1. Artemis Candle
Inspired by the goddess Artemis, this lovely Artemis bust candle is handcrafted with vibrant colors and pure soy wax. It draws attention because it is eclectic. Who, whether a devotee of Greek mythology or not, couldn't benefit from a little wisdom in their life?
2. Tea Light Candle
This Tea Light candle is hand-poured and scented with white tea, marigold, and rose. This candle is simply too gorgeous to burn since it is topped with loose-leaf tea that will be burned when the candle is lit for the first time. What could be more appropriate for a tea party than candles garnished with beautiful tea? What a great way to get the party started!
3. Love Bubble Candle
Bubble candles are among the most popular statement candles, but this one from GremBathlab has a Cupid theme. The candle is made up of the same familiar bubbles in a Rubik's pattern, but this time they are shaped like hearts. What's not to love about hearts?
4. For Them Faer Candle 
 The 'For Them' candle was created to challenge the notions of what society considers to be beautiful. Whether people believe that beauty is having a chiselled butt and exquisite breasts or being skinny, this candle broadens the picture of what a beautiful body might look like and is certainly a work of art. The name was inspired by the Faer pronoun, which has deep origins in the LGBTQ community.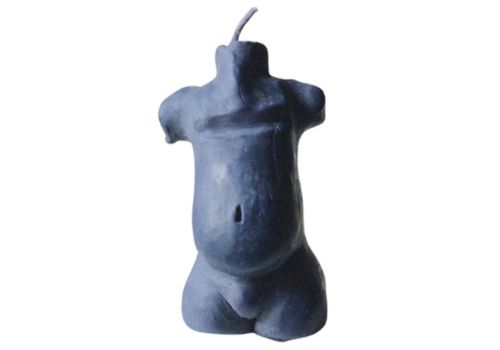 5. Amethyst Candle
While we are accustomed to seeing beautiful stones and crystals in jewellery, using them as a candle vessel feels extra unique and meaningful. These Amethyst candles are indeed too beautiful to burn, but once lit, the vessel will be a perfect site to place tiny plants or serve as a container.
6. Goddess Candle
This goddess candle is handcrafted in Vietnam and represents heavenly feminine strength. It's a stunning statement piece that will inspire any female who needs to channel the power of countless goddesses who have come before her. There is never a bad time to celebrate women's beauty and strength, but it is more vital now than ever.
7. Candlesticks
These Maison Balzac candlestick sets not only come in a variety of elegant colors, but their unusual shape makes them equally suitable for your table when not lit. The best part is that they are fragrance-free. As many people are not very comfortable with scented candles.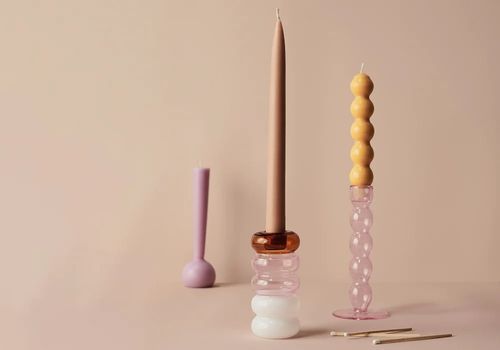 8. 'You Me Bones' Squiggly Candle
Homeware trends have shifted dramatically from crisp, clean lines and minimalism to all things curved and unstable. From covetable wavy mirrors that cost the same as a down payment on a Sydney apartment to chairs that are wonderfully round and comfortable — though impractical — it's evident that we are in the period of the wave, so ride it with this whimsical item from Melbourne-based brand Aacute.
9. Curl Curl Candle
This U-shaped candle from Australian brand Black Blaze might just take the place of flowers as the perfect table setting.
10. Grain Toteme Candles
Look at them! These candles are available in a variety of trendy colorways and sizes, allowing you to mix and match to fit your decor.
11. Twist Candle
You've probably seen this silky piece all over Instagram, marveling at how its looped silhouette feels daring and paired back at the same time. From Flex Mami to Rowi Singh, these twisted candles are already the statement candle of choice for some of our bold interior enthusiasts.
12. Shell Candle
We've seen the seashell trend take almost every form imaginable, so it's only natural that we'd be swooning over these Manara Home pieces, which feel far more polished than your regular nautical-inspired homeware. Oh, and did we mention they're handmade in Australia with exclusively locally sourced sustainable materials? Win-win-win.
13. 'Dante' Candle
The 'Dante' candle by Blazed Wax, hand-poured in Melbourne and a sight to behold, is just one of the brand's many unique products. Whether you want something big and flamboyant or something little and quirky, these candles are the perfect way to add some color to your home.
14. Aeyre Sphere Candle
Only got a wee bit of space for something cute? Aeyre is full of homeware gems that don't take up too much precious real estate. These sphere candles, for instance, are super versatile and bring a retro vibe to any room.
15. Romanesco Candle
Piera Bochner's Romanesco Candle, inspired by the abundant offerings of produce markets in Chinatown and Union Square, realizes the delicate vegetable in technicolor hues. These sphere candles, for example, are quite flexible and add a nostalgic vibe to any area.
Conclusion
That being said, statement candles are way too interesting to burn, therefore we recommend using them as entertaining, ornamental objects and ignoring the wick, but if you must, use caution when burning statement candles or any other type. Always set candles on a heat-resistant candle tray or candle holder before lighting, regardless of size or form. Never leave them alone, and make sure they're properly extinguished before leaving the room, the house, or going to bed.
Read Next Blog:
Top 4 Modern Lighting Ideas For Your Kitchen