On Monday, during the 75th anniversary of India's independence, Mahindra Group unveiled their new electric SUV lineup at the Mahindra Born EV vision unveil event in the United Kingdom. Mahindra & Volkswagen said they intend to expand their strategic alliance to accelerate the electrification of the Indian auto market. The two automakers have inked a Term Sheet for the supply of MEB electric components to Mahindra's new, electric platform INGLO. The two intend to produce more than one million units through their extended cooperation, which includes the installation of five MEB-equipped all-electric SUVs introduced by Mahindra & Mahindra.
Mahindra & Mahindra introduced two new brands established exclusively to house the company's EV portfolio: XUV with the twin peak emblem in copper and BE an all-new electric-only brand. It will be the first to offer the XUV e range, with the XUV e8 model arriving in December 2024, followed by the first model in the BE series in October 2025.
Furthermore, M&M and Volkswagen intend to explore the additional potential for collaboration, opening the door to a larger strategic alliance to advance the electrification of the Indian automobile market. This strengthens their earlier-this-year collaboration deal. By the end of 2022, the two businesses will have concluded their legal and productive negotiations for a supply agreement.
In the meanwhile, the partnership between Volkswagen and Mahindra can make a big contribution to India's electrification, a sizable auto market with strong climate protection goals. The collaboration proves not only that our platform business is extremely competitive, but also that the MEB is on course to become one of the top open platforms for e-mobility. The INGLO platform would combine the best of both worlds, being both Indian at heart and global in reach.
Rajesh Jejurikar, Executive Director and Mahindra & Mahindra said "The signing of the techno-commercial term sheet represents an important step forward in our collaboration with Volkswagen. Our INGLO platform provides an unrivalled opportunity for development and further customization for producing new and creative products for not just India but globally also."
Jejurikar further added "Our goal is to introduce genuine electric SUVs equipped with cutting-edge technology, similar to those on display in the UK, and to pioneer the electric mobility revolution in India. We are confident that together we will be able to shape an exciting new electric future."
Mahindra Electric Cars
Mahindra's forthcoming electric vehicles will be known as the XUV-e1, XUV-e2, XUV-e3, XUV-e5, XUV-e6, XUV-e7, and XUV-e8. This clearly indicates that the corporation would call its electric vehicles after its well-known XUV line. The XUV e line will be the first to be marketed by the company, with the XUV e8 model arriving in December 2024, followed by the first model in the BE series in October 2025.
Mahindra XUV.e8 (Dec 2024)
Dimensions: L x W x H: 4740 x 1900 x 1760 mm | Wheelbase 2762 mm
The stylish cabin, along with the clever all-wheel drive technology, provides optimum riding comfort both on and off the road.
Mahindra XUV.e9 (Apr 2025)
Dimensions: L x W x H: 4790 x 1905 x 1690 mm | Wheelbase 2775 mm
A daringly modern design that combines the capabilities of a real SUV with the aerodynamic shape of a coupe. It will include modern interiors and a panoramic sky roof.
What Is BE Range?
BE's lineup begins with the BE.05 coupe-SUV, which will go into production in October 2025. It will be a sports electric vehicle. The front design, with headlights and a big air dam, is likely to be quite opulent, with a prominent air-duct on the bonnet and many sharp cuts and creases.
BE.05 (Oct 2025)
Dimensions: L x W x H: 4370 x 1900 x 1635 mm | Wheelbase 2775 mm
In the purest sense, it is a Sports Electric Vehicle (SEV). It will feature a racing-inspired bold design that will be flawlessly complimented by multi-sensory experiences.
BE.07 (Oct 2026)
Dimensions: L x W x H: 4565 x 1900 x 1660 mm | Wheelbase 2775 mm
Designed to provide a first-class experience, with versatility, customisable profiles, and customised multi-sensory experiences.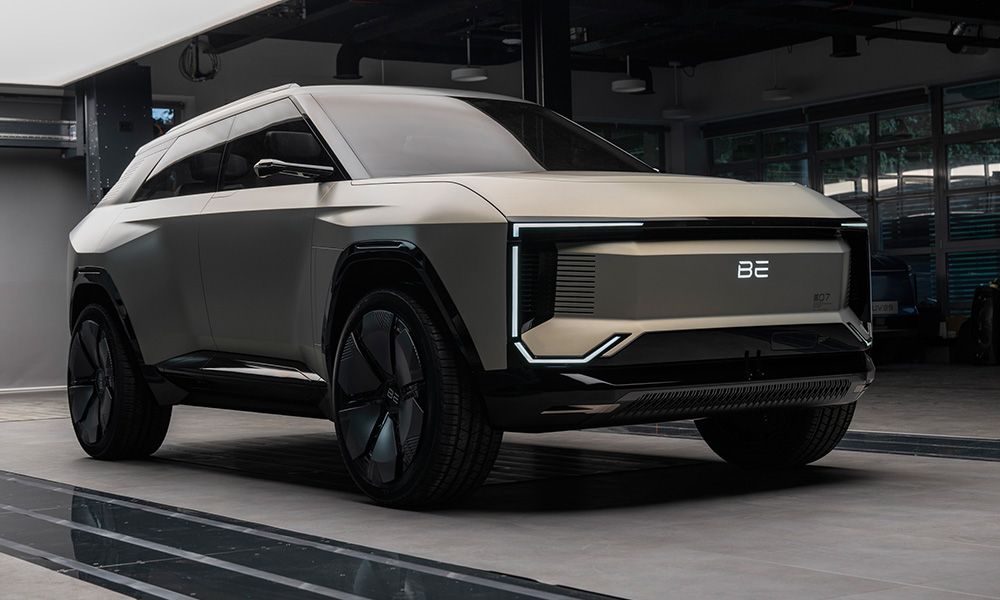 BE.09
The BE.09, a coupe-SUV identical to the BE.05, will be the last car in this lineup. The company has not disclosed the size of the BE.09 Concept EV as of now.
INGLO Platform provides a multi-sensorial driving experience with a 5G network, augmented reality display and Over-The-Air updates that play important role in this connected age.
Blade and Prismatic, are two different cutting-edge cell architectures which follow a common battery pack design with lean modules and standardised cell-to-pack technology.
Battery charging up to 80% in 30 minutes and option available from 60-80 kWhr battery capacity which is sufficient for 175 kW fast charge. Two-wheel drive options are available: rear-wheel drive (RWD) and all-wheel drive (AWD).
It offers enhanced aerodynamics, zero-drag wheel bearings and reduced rolling resistance with 5.5 RRC tires. Minimum power consumption with high-efficiency cooling and HVAC system, semi-active suspension system provides excellent ride comfort with sporty drive experience.
Mahindra designed these electric SUVs with the highest safety and safety for batteries with Global NCAP standards. All the electric SUVs are designed to provide full safety to passengers like a structural cage around the passenger cabin.
Read Next Blog:
8 Monsoon Car Care Tips To Protect Your Car